Adhitya Bhogra is an author, speaker, and founder of Himalayan Khalifa and Spearhead Consulting.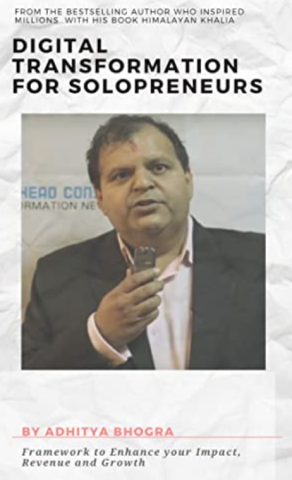 Having made a difference in the lives of thousands across the globe through his articles, books, live sessions, and Hackathons, and after working as Tony Robbins Crew, Adhitya Bhogra, a Harvard, ISB, and IIM alumnus, has been on a mission to share his expertise and experience to guide young achievers, Solopreneurs, and IT Leaders to take transformational steps in their careers. Adhitya Bhogra has founded two global brands, Himalayan Khalifa and Spearhead Consulting.
He has helped solopreneurs and organizations shape their identities for 10 times more Impact and income, earning him the title of "digital transformation leader" thanks to his skill in digital branding.  A well-known Mentor and philanthropist, he has written numerous books, including "Digital Transformation For Solopreneurs and Startup Founders: Framework for Maximizing Impact, Revenue, and Growth," available now on Amazon. 
Having worked in more than 20 countries across the globe, Adhitya has executed multiple onsite projects for prestigious Clients like Hilton, Hyatt, WK, Tenet, International Confederation for Red Cross (Geneva), Bank of Ireland, Moody's, and U.B.S Bank on various platforms and portals. 
He has been working with Delhi Government to seed entrepreneurship spirit in School Children of Delhi.
He has been the ultimate digital guru to many IIM graduates, IT leaders, and solopreneurs as evident in the testimonials on his LinkedIn page.
Speaking about his ambition, Adhitya Bhogra says, "The impact of internships and mentoring on changing lives is what motivates me the most in terms of my purpose. I was thrilled when a young Achiever moved to Australia, a Delhi girl transferred to the USA, and a young boy from Bihar accepted a job with a well-known brand in Singapore.  With the right guidance and internship, anything is possible. I have personally witnessed many Solopreneurs taking their income from zero to 5 or 6 figures by leveraging Digital Technologies the right way. If you believe we could work together or if you want to improve the Digital Mindset of yourself  or your team involving Digital Transformation, Digital branding, or Social Impact campaigns, remember I am always there for you."
For more information, reach out to Adhitya Bhogra on LinkedIn: https://www.linkedin.com/in/adhitya-bhogra/ or send an email to thementor@spearheadconsulting.xyz
Watch "5 Proven Ideas to Winning and Retaining High Paying Clients by Adhitya Bhogra" on YouTube: https://www.youtube.com/watch?v=KV9Mmv15kT8
Media Contact
Contact Person: Adhitya Bhogra
Email: Send Email
City: Delhi
Country: India
Website: linkedin.com/in/adhitya-bhogra/