eMaint CMMS, which is used by Schneider Electric, Herbalife, Dana, Next Retail Group, Jack Daniel's and thousands of maintenance management teams, is a well-known and well-adopted CMMS product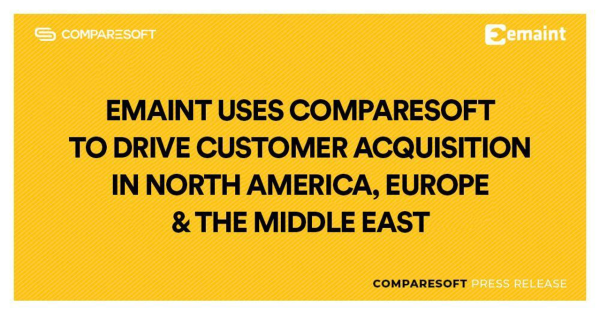 London, United Kingdom - March 23, 2023 - eMaint's key play is combining maintenance software and hardware to offer complete maintenance solutions. eMaint provides dynamic CMMS solutions to maintenance teams that can be configured for simple or complex maintenance scenarios. Along with the software play, eMaint also offers IoT sensors made by parent company Fluke.
Paraic OLochlainn, General Manager, EMEA at eMaint said "Our association with Comparesoft has grown since 2019. Every year the partnership has mutually benefited both the parties, so expanding our relationship to North America, Europe and the middle east was a straightforward decision."
London-based Comparesoft is the UK's fastest-growing B2B software comparison platform. They have built language model for software buyers and software vendors. 19,000 software buyers including US Military, Amazon and Pepsi have used the ad-free and helpful comparison platform.
Prasanna Kulkarni, CEO of Comparesoft said "eMaint is a powerful product which can improve uptime significantly. Combined with its IoT capabilities and unparalleled expertise, eMaint can deliver exponential maintenance benefits. Hence, we are very pleased to recommend them to software buyers from North America, Europe and the Middle East."
Comparesoft is backed by Blackfinch Ventures and Mercia Fund.
Press Release Contact: Lauren Nicholson at lauren.nicholson@comparesoft.com
Media Contact
Company Name: Comparesoft
Contact Person: Lauren Nicholson
Email: Send Email
Phone: + 44 020 3963 5379
Country: United Kingdom
Website: http://comparesoft.com/