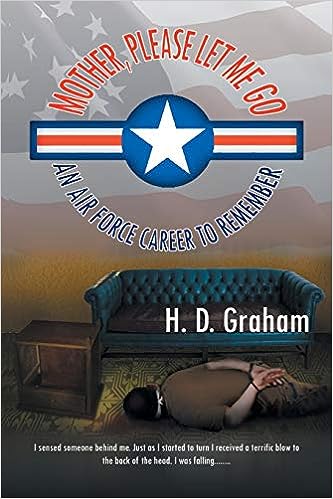 Join Author's Tranquility Press as we proudly unveil "Mother, Please Let Me Go: An Air Force Career to Remember" - an extraordinary memoir penned by H.D. Graham. Delving into a life filled with excitement, dedication, and remarkable experiences in the United States Air Force, this book offers readers an enthralling journey of courage and resilience.
In "Mother, Please Let Me Go," H.D. Graham takes readers on an immersive expedition through his exciting and wonderful career in the United States Air Force. With meticulous attention to detail, Graham chronicles each assignment in chronological order, shedding light on the major events and significant milestones that shaped his life at every base. From heartwarming moments to challenges faced, the memoir beautifully captures the essence of an exceptional career dedicated to service.
A substantial part of the book delves deep into Graham's experiences during his assignments in Vietnam. These poignant chapters reveal the indelible impact of serving in a war-torn country, with events that continue to resonate in the author's heart and mind. Through the pages, Graham shares his personal struggles and emotions, inviting readers to connect with the human side of wartime service.
The memoir transcends beyond the Air Force career, offering glimpses of Graham's early life as a senior in high school, eager to enlist and serve his country upon turning 17. Readers will be captivated by intriguing tales from high school and insights into the dynamics of Graham's large family. With pride, Graham shares that his family's combined military service spans over 170 years, a legacy of patriotism that runs deep through generations.
"Mother, Please Let Me Go" culminates with thought-provoking reflections, including Graham's observations of a jetliner practicing for a flight across southern Pennsylvania on September 10, 2001 - an event that would tragically crash on September 11, 2001. This powerful tribute serves as a testament to the profound impact of historic events on individuals and the nation.
Experience the riveting pages of "Mother, Please Let Me Go: An Air Force Career to Remember," where valor, camaraderie, and cherished memories await. The book is now available for purchase on Amazon. Visit his website for more information at https://hdgraham.com/.
About the Author
H.D. Graham is a gifted storyteller who weaves an authentic tapestry of a life dedicated to service. "Mother, Please Let Me Go: An Air Force Career to Remember" showcases the author's passion for preserving memories and honoring the sacrifices of military life.
About Author's Tranquility Press
Author's Tranquility Press is a top publicity agency known for delivering innovative solutions designed to help writers across genres to reach a wider audience. The company combines the use of the latest technologies and the expertise and diverse experience of the team to provide quality, relatable content to as many people as possible, irrespective of their location across the globe.
Media Contact
Company Name: Author's Tranquility Press
Contact Person: Patricia Adams, Marketing Supervisor
Email: Send Email
Phone: 8664118655
Address:3800 CAMP CREEK PKWY SW BLDG
City: Atlanta
State: GA
Country: United States
Website: www.authorstranquilitypress.com/