"Capital Punishment" is fondly described as a mediocre game for hilarious people by the creators themselves showing their funny side.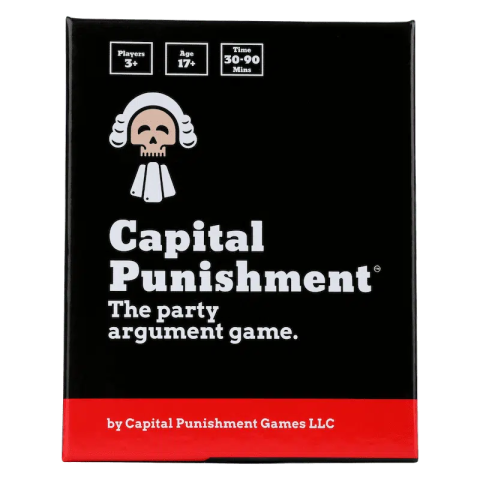 Amidst the growing trend of game nights as a cornerstone of social gatherings, an innovative small business is making waves by introducing an exciting fusion of spirited debates and uproarious laughter. Capital Punishment, a dynamic black-owned gaming company headquartered in Philadelphia, proudly announces its standout status as a premier game for unforgettable game nights in 2023, self-described as a mediocre game for hilarious people that promises an unparalleled and engaging experience for players.
Dubbed the "Top Game for Game Night in 2023," Capital Punishment has gained remarkable recognition for its groundbreaking gameplay and its mission to inject pure enjoyment into lively discussions. This game goes beyond conventional gaming norms, fostering thought-provoking conversations while maintaining a jovial and enjoyable atmosphere.
Capital Punishment's remarkable ascent to prominence is a testament to its ingenuity. Recognized as a recipient of Amazon's black business accelerator grant, the company underscores its unwavering commitment to excellence and originality. With an impressive three years of successful operation in the industry, Capital Punishment continues to captivate audiences with its innovative and entertaining approach to gaming.
Capital Punishment is thrilled to introduce its latest venture in an exciting development: an enthralling TV show that seamlessly melds gameplay footage with witty commentary. This unique amalgamation promises viewers an extraordinary experience, seamlessly combining live gameplay's excitement with charismatic hosts' charm.
Derrick Skipper, one of Capital Punishment's co-founders, shares his insights, saying, "Try explaining to people that arguing is fun... you can't, so we had people play capital punishment to show them. It's like a giant roasting session at a party where no one gets attacked. Personally, it's got role-playing if you ever thought you should be on your favorite law tv show."
The narrative behind Capital Punishment is one of friendship and determination. Conceived in 2020 by three best friends following the loss of a comrade, Guillotine Games D/B/A Capital Punishment Games has flourished into a creative powerhouse with a vision for expansion. Operating under Guillotine Games LLC, Capital Punishment Games LLC is committed to delivering more captivating games and expansions that will resonate with players on a national scale.
Learn more at: https://www.capitalpunishmentgame.com or contact Derrick Skipper at info@capitalpunishmentgame.com
For updates, follow Capital Punishment on Socials.
Instagram: https://www.instagram.com/capitalpunishmentgame
TikTok: https://www.tiktok.com/@capitalpunishmentgame
Media Contact
Company Name: Guillotine Games LLC D/B/A Capital Punishment Games LLC
Contact Person: Derrick Skipper
Email: Send Email
City: Philadelphia
State: Pennsylvania
Country: United States
Website: www.capitalpunishmentgame.com