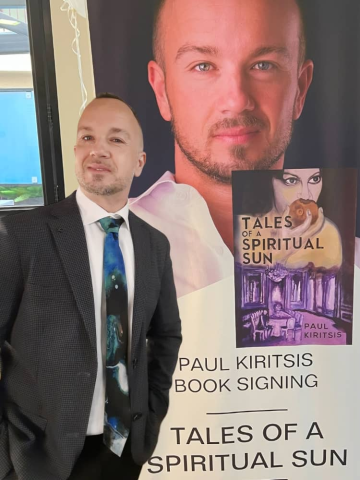 Amazon bestselling author Paul Kiritsis continues to garner much acclaim for his bestselling book, "Tales, of a Spiritual Sun" a book that re-writes the Greek myths as never before. Paul combines mythology, history, and ancient Greek history in these short stories, by retelling in narrative descriptions, various tales about myths with dazzling enthusiasm, spawning both his love for history and philosophy, as well as his passion for creative writing."From the Sphinx communicating through a Ouija board to Narcissus's traditional, terrible fate morphing into his first glimmer of hope, the tales of the familiar are tackled, such as the stories of Medusa, King Midas, and Pandora. Yet, Tales of a Spiritual Sun also includes those that are, perhaps, less well known such as Orpheus, Proteus, and Psyche.
All the stories are viewed from new angles or written with modern twists. They take on new lives, with fresh locations and messages at their heart. These include a scientific experiment ready to change the world on the night it is set to end and a personal detective who must decide if a man, claiming his wife is a nymph, is delusional or about to commit an awful crime.
Tales of a Spiritual Sun allows readers to discover ancient myths in a bold and original way, in both contemporary and traditional settings."
Paul Kiritsis, a licensed medical psychologist, author and poet, and artist, holds postgraduate qualifications in four different disciplines – clinical neurophysiology (MScMed), clinical psychology (PsyD), history (MA), and English/professional writing and speech (Postgraduate diploma) and is an alumnus of Sofia University (Palo Alto, USA), Sydney University (Sydney, AUS), Latrobe University (Melbourne, AUS), and Exeter University (Exeter, UK).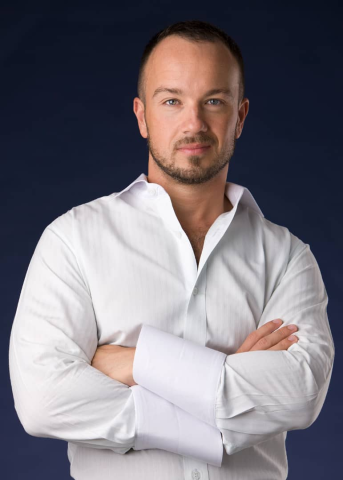 He is the author of seven books, including the creative compendium Confessions of a Split Mind (2017), the award-winning titles The Creative Advantages of Schizophrenia (2019), and A Critical Investigation into Precognitive Dreams (2020), and the collection of short stories Tales of a Spiritual Sun (2023). Tales of a Spiritual Sun hit #2 Bestseller in the category of short stories-historical fiction on the 6th of May, 2023, and #1 Bestseller in the same category on the 7th of May, 2023.
His six other published books cover contentious topics in psychiatry and psychology, mind-matter interaction, literary studies, and poetry. He is also the recipient of twenty-two awards and was recently included in the 2023 Doctors edition of the Best of California Magazine for excellence in medicine.
Kiritsis is an Australian native with very strong ties to his ancestral lands (Greece). His diverse academic interests straddle cognitive neuroscience psychology/neuropsychology, and philosophy of mind on one end of the spectrum and esotericism, comparative religion, and history on the other. He enjoys cycling, weightlifting, playing the keyboards, and scuba diving in his spare time.
Here are some professional reviews:
"A short story collection that offers numerous twists on ancient tales from Greek mythology. Kiritsis begins with a creation myth, "To Propitiate the Earth," in which the beginning of one world necessitates the end of another, which priestesses try in vain to stop; the end of the story, however, offers a sliver of hope for the future. This opening work effectively shows the author's ability to balance the dreamlike elements of myths with a modern-feeling narrative structure. Overall, Kiritsis' stories are skillfully written and introduce an array of memorable players. An offbeat and thought-provoking set of mythic narratives." - Kirkus Reviews
"Greek myths are revitalized via the modern additions of psychology and science in the involving short story collection Tales of a Spiritual Sun. The effects of the original stories are heightened by the influence of disciplines including biology and psychology. Indeed, the stories recognize that nothing is ever quite as it seems, either in myth or in reality. The line between fact and fiction is blurred in intriguing ways, including with a question of how Aphrodite and Odysseus might fare in the present." - Foreword Clarion Review
"Paul Kiritsis has a unique and profound understanding of myths and shares his insights with his fortunate readers in this magnificent retelling of the sagas of Orpheus, Pandora, Medusa, Eros, the Trojan Horse, and more." – Stanley Krippner, Ph.D., Co-author of Personal Mythology
"Kiritsis is at his best with his lengthy descriptive passages, using language that often evokes imagistic poetry. I found this book to be an engaging page-turner: surprisingly violent and sexually graphic at times, squeamishly uncomfortable at others, but inventive, highly creative, and fascinating throughout. The book interweaves shrewd observations about the human condition into its tales, even throwing in comedic laugh-out-loud lines on occasion, often when least expected." - David Messineo, Editor/Publisher of Sensations Magazine
"Entrapment" stands out for the two sides switching in an unexpected and entertaining twist in the end. A kidnapped monastic defends her monastery's leader, from whom her captor claims he's rescuing her. This story shows the intricacies the tales exploit, where accepted truths become lies, and the unexpected, the unimaginable becomes the most real and most captivating. The in-depth arguments between characters-the stories' "meat"-provide multiple perspectives that a wide audience can get behind." - Mari Carlson, US Review of Books
Contact Information:
Author website: www.paulkiritsis.net
Email: paul@paulkiritsis.net
Amazon link: https://www.amazon.com/Tales-Spiritual-Sun-Paul-Kiritsis/dp/1804390054
Social media handles:
Twitter: https://twitter.com/paulkiritsis
YouTube: https://www.youtube.com/user/PaulKiritsis
Media Contact
Company Name: Dr. Paul Kiritsis
Contact Person: Dr. Paul Kiritsis
Email: Send Email
Phone: 1-650-619-7825
Country: United States
Website: www.drpk.net