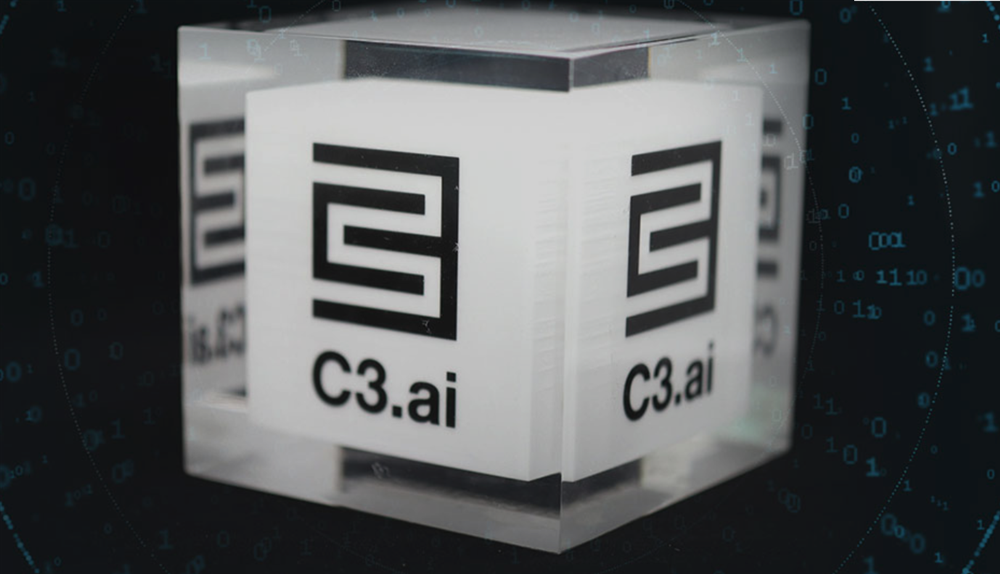 Activist short seller Kerrisdale Capital just doubled down on its C3.ai (NYSE: AI) short thesis, driving the stock down as much as 24% intraday. The hedge fund, who back in March published a bearish "short report" on the enterprise AI firm, said that it sent a letter to C3.ai's auditor Deloitte and the SEC documenting accounting issues.
Traders and investors have been clamoring for exposure to AI ever since the power of ChatGPT shocked the world. C3.ai stock is one of the hottest stocks in the market because it's the only large company offering a "pure play" on artificial intelligence. Before today's report, C3.ai was up over 200% year-to-date.
Check out MarketBeat's MarketRank forecast for C3.ai:

Kerrisdale Capital is a well-known hedge fund that often operates as an activist short seller. That means the fund will take short positions against a stock and publicly share its research to persuade other investors to sell the stock or take bearish positions against it. This practice is controversial; some call it market manipulation. Others say it adds to market efficiency and is no different from a sell-side analyst publishing a "strong buy" report on a stock.
Research firm Breakout Point reported that Kerrisdale Capital took four activist short positions in 2022. Its average target stock declined 42% following the report's release.
Kerrisdale's C3.ai Short Report
Let's start by breaking down the critical components of Kerrisdale's original research report from March 6, "Driving Shareholder Value Through Prescient Stock Ticker Selection." 
The central theme of this report is Kerrisdale's claim that C3.ai misrepresents itself as an AI company, instead selling basic enterprise data analytics with a sprinkle of machine learning. Most importantly, the report emphasizes that the business has nothing to do with generative AI excitement sparked by ChatGPT and other chatbots. This perceived misconception is critical, as most investors buy the stock based on ChatGPT hype.
According to the report, the firm is guilty of pivoting to take advantage of stock market trends. C3 was initially founded as C3 Energy to provide data analytics to public utilities but then pivoted to the Internet of Things (IoT), changing its name to C3 IoT. When that didn't work out, the company shifted to AI by changing its name to C3 AI and snagging the stock ticker "AI."
The rest of the report focuses on C3's disadvantages and shortcomings compared to competitors in its several verticals, like Salesforce, Palantir and Snowflake. The hedge fund interviewed several ex-C3 employees, customers and AI industry executives to substantiate these disadvantages.
The market reaction to the initial March 6 release of the report was bearish, pushing C3.ai (NYSE: AI) down 28% that week. However, the excitement around AI overwhelmed the skepticism, and the stock quickly shot up to new highs in the following weeks: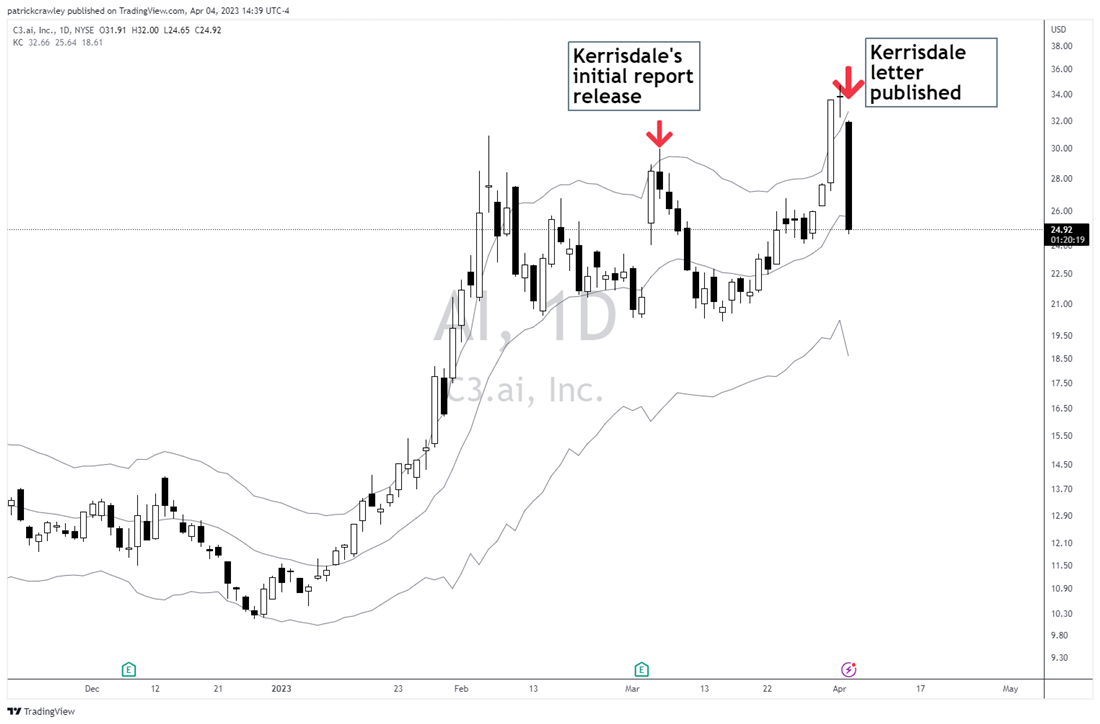 Kerrisdale's Letter to Deloitte and the SEC
Perhaps because of the stock's inability to stay down amidst a flurry of AI interest, Kerrisdale Capital doubled down on its public C3.ai short. The hedge fund sent a letter to the company's auditor Deloitte and the SEC detailing what the fund deems "serious accounting and disclosure issues" at C3.ai.
The letter is a scathing reprimanding of Deloitte for signing off on what the hedge fund sees as questionable accounting practices. The letter outlines four accounting anomalies it sees as aggressive accounting to meet sell-side estimates. 
Primarily, these issues surround revenue recognition. Kerrisdale takes issue with C3's ballooning unbilled receivables, which standing at 197 days-sales outstanding (DSO), is a DSO level unheard of for SaaS firms, according to the hedge fund. The letter details other issues, like C3's significant executive departures and potential misclassification of certain costs.
Kerrisdale released the letter before the market open on Tuesday, sending the stock down as much as 27% intraday compared to the previous day's closing price. The stock declined in an almost straight line all morning and began to settle into a tighter range in the afternoon.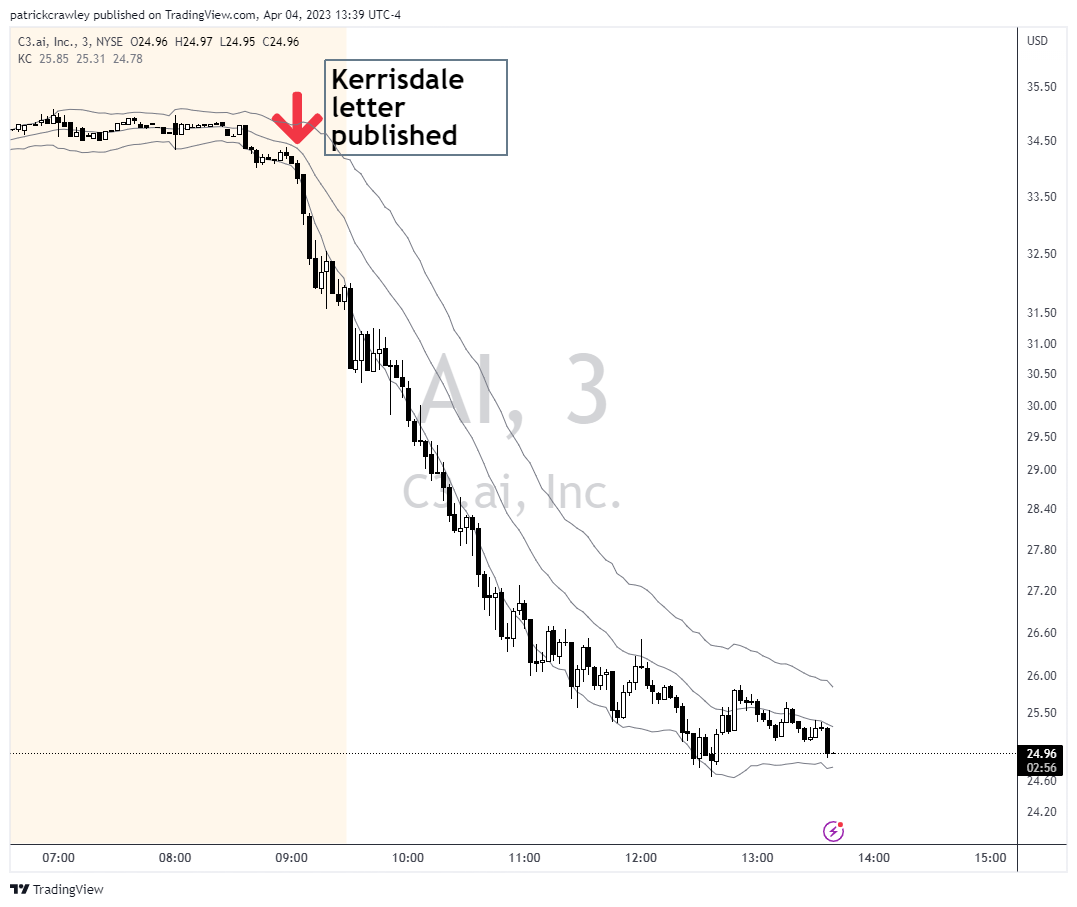 Bottom Line
Given the massive run-up in AI-adjacent stocks like C3.ai (NYSE: AI), SoundHound AI (NASDAQ: SOUN) and BigBear.ai (NYSE: BBAI), it's no surprise that the stocks are now a target of activist short sellers who try to profit from popping market bubbles.