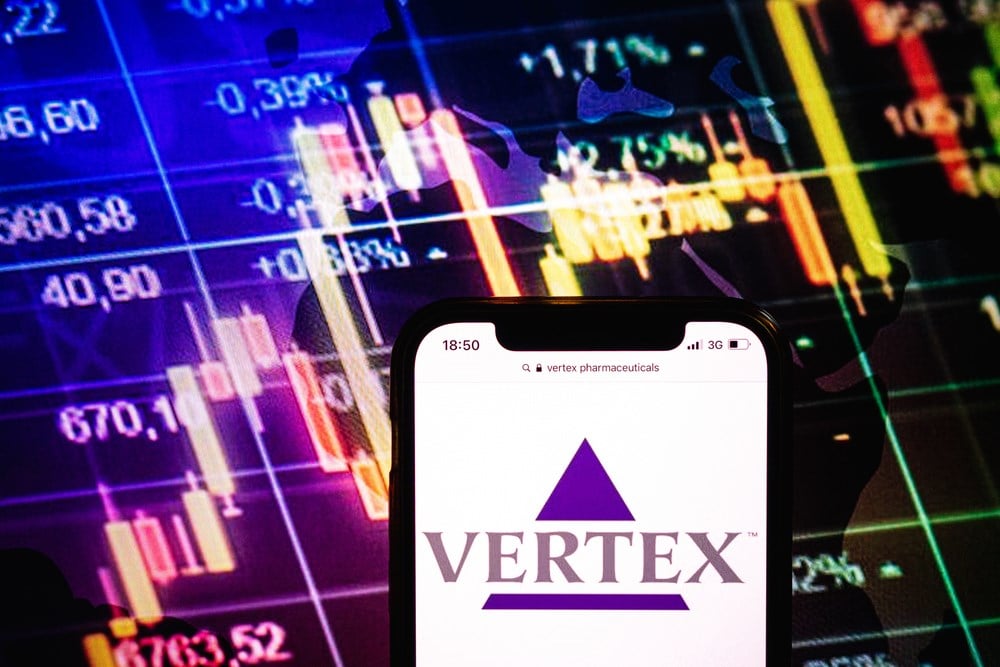 Vertex Pharmaceuticals Inc. (NASDAQ: VRTX), maker of Cystic fibrosis drugs, rallied to a record high on May 2 after a better-than-expected first-quarter earnings report. 
Net income of $3.05 a share exceeded Wall Street views of $2.51 a share, as Vertex Pharmaceuticals earnings data show. Revenue of $2.374.8 billion was also ahead of expectations. The results marked a decrease of 13% on the bottom line and an increase of 13% on the top line. 
With a market capitalization of $87.99 billion, Boston-based Vertex is a component of the S&P 500. The stock has posted the following returns, all of which outpace the broader S&P healthcare sector: 
1-Month: 3.49%
3-Month: 18.19%
YTD: 19.52%
1-Year: 35.79%
New FDA Approval
After rallying in heavy volume on the earnings news, Vertex stock advanced again on May 3 when the company announced FDA approval for the use of its Kalydeco cystic fibrosis medication in infants between one and four months old. This is months earlier than the youngest patients were previously receiving treatments.
"As a physician caring for infants and children with cystic fibrosis, I see the importance of initiating therapies early in life that may slow disease progression," said Dr. Margaret Rosenberg, one of the principal investigators in Vertex's study.
Vertex Pharmaceuticals analyst ratings show a flurry of activity following the earnings report and the latest FDA approval. On May 2 and May 3, 10 analysts boosted their price targets on Vertex stock. Analysts' consensus rating is "moderate buy," with a price target of $352.59, an upside of 3.33%.
Treatments For Other Conditions
While cystic fibrosis treatments are the most significant line of business, the company is developing medications for other conditions.
For example, Vertex recently announced a new licensing agreement for the use of CRISPR Therapeutics' (NASDAQ: CRSP) gene editing technology, known as CRISPR/Cas9. Under this agreement, Vertex made an upfront payment of $100 million to CRISPR in the first quarter of 2023.
In addition, Vertex has a global research agreement with Entrada Therapeutics Inc. (NASDAQ: TRDA), focused on therapeutics for a condition called myotonic dystrophy type 1. Under the terms of the agreement, Vertex made an upfront payment of approximately $225 million to Entrada, as well as an equity investment of approximately $25 million.
Vertex also has a long-standing partnership with Moderna Inc. (NASDAQ: MRNA) to develop cystic fibrosis treatments using gene editing. 
Trikafta Biggest Revenue Generator
In its first-quarter report, the lion's share of Vertex Pharmaceuticals' revenue came from Trikafta. Trikafta is a combination drug that addresses the most common CF mutation. It has been shown to significantly improve lung function and overall health outcomes for CF patients. It's been a remarkable success story since its launch in 2019. 
A much smaller portion was derived from other cystic fibrosis medications. In addition to Kalydeco, another such example is Orkambi, designed to treat CF patients who have a different mutation in the CF gene. 
Vertex is also developing medications for other conditions, such as sickle cell disease, kidney disease, acute and neuropathic pain, and type 1 diabetes, among others.  
Watch Pipeline Strength
Pipeline strength is always something for pharma investors to watch, to be sure the company can sustain and grow its revenue and net income as existing patents expire. 
A diverse pipeline reduces reliance on a single drug or therapeutic area, mitigating risks. That's clearly what Vertex is doing by expanding its product lines beyond CF. 
The pipeline also attracts investment as investors understand that the company can address unmet medical needs, while driving innovation. 
Vertex, along with companies such as Amgen Inc. (NASDAQ: AMGN) and Gilead Sciences Inc. (NASDAQ: GILD), differs from traditional pharmaceuticals because of their focus on developing treatments for very specific conditions, rather than acquiring medications to treat a range of maladies. 
The Vertex Pharmaceuticals chart shows a mid-April breakout from a cup-shaped base. The current pullback from the early May high is offering a new buy zone, but watch for the stock to continue finding support above its 50-day moving average.