A rising global population means that maintaining viable agricultural space is one of the most pressing farming issues of 2023 and beyond. Vertical farming is growing crops indoors in stacked layers, utilizing artificial lighting and a controlled environment to optimize plant growth. In recent years, this technology has been gaining popularity in producing higher-quality crops in urban areas, where space for traditional agriculture is limited. 
Learning to invest in vertical farming stocks is one of the best ways to gain early access to this growing investment class. But which vertical farming companies' stocks are worth the capital investment? Read on to learn more about how vertical farming works, vertical farming stocks making waves on the market and some of the benefits and risks of this agricultural system. 
What is Vertical Farming?
As the name suggests, vertical farming involves growing fruits, vegetables and other edible plants in stacked rows. This is opposed to traditional farming, which usually requires crops planted in horizontal rows. When considering farming stocks for your portfolio, consider integrating multiple types of growing and farming methods to limit overall risk. 
Most vertical farms operate indoors, which allows farmers to control the environments in which the plants grow. This has made vertical farming operations ideal for heavily populated areas like New York City, where pollution and low-quality air can affect crop growth and quality. 
Various types of growing systems are used in vertical farming, such as hydroponics and aquaponics. Hydroponics is a method of growing plants without soil using nutrient-rich water. Aeroponics is similar to hydroponics, but the plant roots are suspended in the air and misted with nutrient-rich water. Both systems require access to clean, quality water utilized in compact spaces. 
As the global population continues to grow, the demand for food is increasing. Vertical farming can help meet this demand by providing a way to grow more crops in a smaller space. Companies with exposure to vertical farming operations made up many of the recent winners in the bull run in agricultural stocks, with investors seeing potential in this smarter way of growing crops. While investors should be aware of the higher startup costs associated with vertical farming operations, exposure to the industry may offer benefits related to expanding urban populations. 
Overview of Vertical Farming
Vertical farming typically involves growing crops indoors in stacked layers, usually in an indoor, controlled environment. Vertical farming has allowed growing crops generally requiring a specific climate (like cucumbers or bell peppers) to grow in a geographically diverse area. Residents of urban centers access more fresh produce options that would otherwise be impossible to ship and maintain the quality. 
Federal funding in vertical farming research and development has made the area appealing to investors. The U.S. Department of Agriculture (USDA) offers grants through its Agriculture and Food Research Initiative (AFRI) to support research and development in the agricultural sector, including vertical farming. The USDA also offers the Environmental Quality Incentives Program (EQIP), which provides financial and technical assistance to farmers and ranchers implementing conservation practices on their land, including indoor farming. Some states, like New York, have also developed local programs to encourage vertical farm development and integration.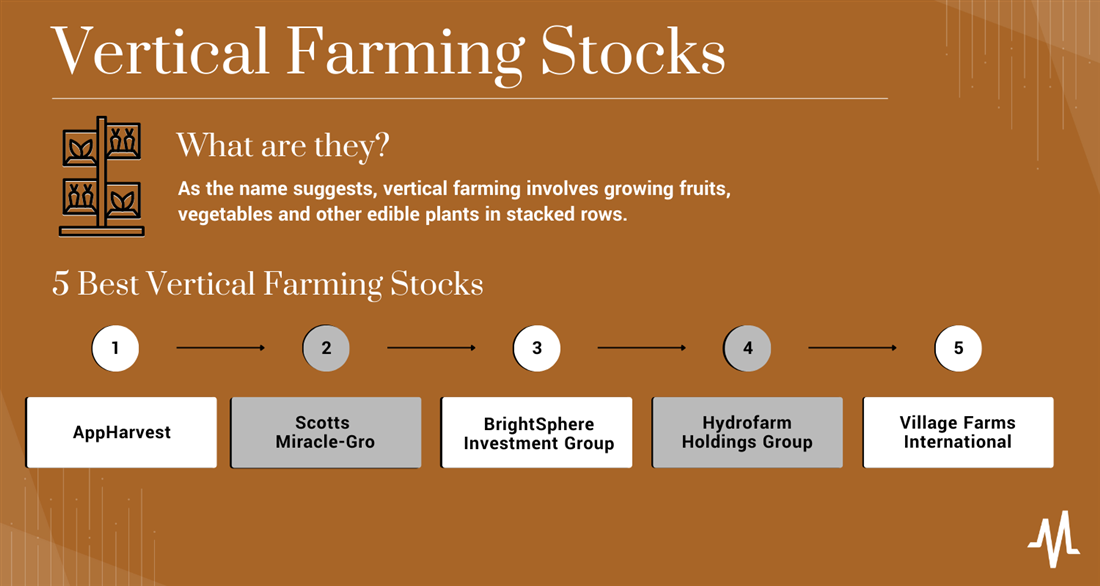 5 Best Vertical Farming Stocks
Now that you know how vertical farming works and why you might want to invest in these operations, it's time to learn how to invest in vertical farming. The following are five of the best vertical farming stocks for 2023 and beyond. 
1: AppHarvest
AppHarvest (NASDAQ: APPH) is a micro-cap company that builds and operates large-scale indoor farms using hydroponic technology. It grows various fruits and vegetables and has partnerships with retailers and food service companies nationwide to provide a sustainable option for fresh produce. As of April 2023, AppHarvest had a total market capitalization of about $73 million. 
One of AppHarvest's most notable projects is a 60-acre indoor farm called the AppHarvest Morehead facility. The farm (located in Morehead, KY) uses hydroponic technology to grow various fruits and vegetables, including tomatoes, cucumbers and berries of all types. The facility is powered by renewable energy sources, including solar and natural gas, and conserves water through a closed-loop irrigation system. Investors searching for a commercial option for sustainable agriculture investing may find AppHarvest worth considering.
2: Scotts Miracle-Gro
Scotts Miracle-Gro (NYSE: SMG) is a well-known gardening and lawn care company investing in vertical farming technology. The company owns a majority stake in The Hawthorne Gardening Company, which provides hydroponic growing systems and other equipment for indoor farming. This diversification and separate division can make Scotts Miracle-Gro a stronger investment choice for investors looking to put money into the best fertilizer stocks alongside their vertical farming investment. 
3: BrightSphere Investment Group
BrightSphere Investment Group (NYSE: BSIG) is an asset management company that provides investment management services to institutional and individual investors. Many of its assets are held by agricultural investors and farming operations. Its responsible and sustainable investment portfolio includes AppHarvest and other major off-exchange names like AeroFarms. In April of 2023, BrightSphere had more than $972 million in total market capitalization. 
4: Hydrofarm Holdings Group
Hydrofarm Holdings Group Inc. (NASDAQ: HYFM) is one of the world's leading providers of hydroponic equipment and supplies for indoor and greenhouse gardening. Headquartered in California, Hydrofarm offers a wide range of products, including lighting systems, nutrients, growing media and ventilation equipment to support indoor and greenhouse gardening across various crops, including fruits, vegetables and cannabis products. It also offers a limited range of consulting services for growing operations and the expanding realm of legal dispensaries. 
While Hydrofarm is not a pure-play vertical farming company, its products and services are essential components for indoor and greenhouse farming, a growing industry segment. As such, the company is well-positioned to benefit from the increasing adoption of indoor and vertical farming methods.
5: Village Farms International 
Village Farms International Inc. (TSE: EFF) is a Canadian agricultural company specializing in producing greenhouse produce. The company was founded in 1987 and has become a significant producer and distributor of greenhouse-grown tomatoes, peppers and cucumbers in North America. It has also recently expanded into the cannabis sector, providing diversification in investment choices. In April of 2023, Village Farms International had a total market capitalization of $527 million.  
Other Ways to Invest in Vertical Farming
While buying and selling shares of stocks in multiple agricultural sectors can be one of the most direct ways to invest in vertical farming, it isn't your only option. If searching for and purchasing top-rated stocks to buy isn't for you, consider these alternative investment options. 
Agricultural Funds
Investing in agricultural funds is a way to gain exposure to the agriculture industry and benefit from the growth of innovative and sustainable agriculture technologies like vertical farming. Agricultural funds are collections of stocks that trade as a single unit, providing investors with instant diversification. Agricultural funds might be structured as exchange-traded funds (ETFs) or mutual funds, depending on the company issuing and managing them.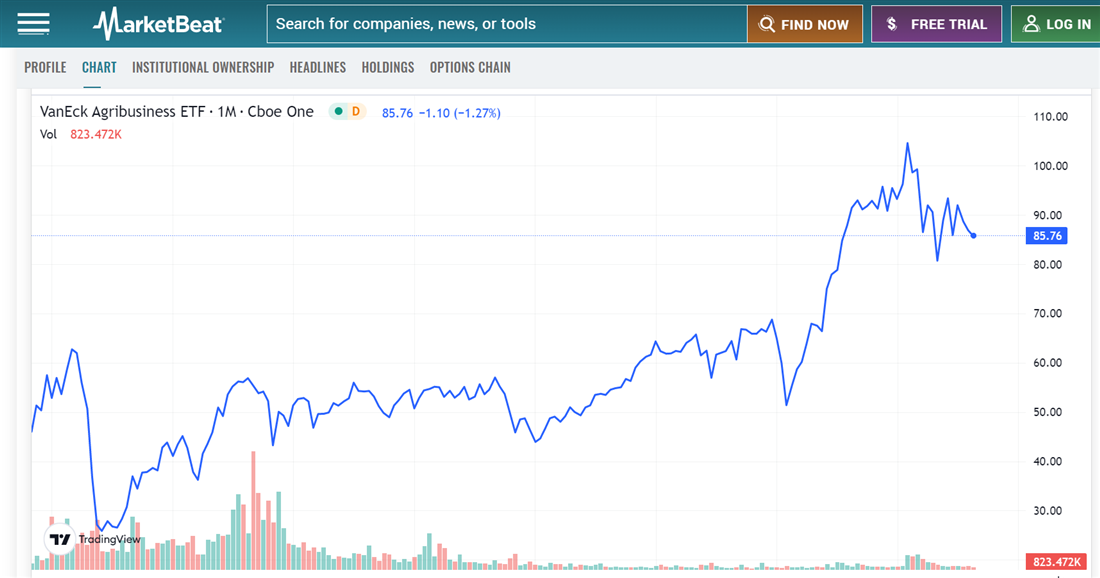 Image: The VanEck Vectors Agribusiness ETF (NYSE: MOO) is an example of an agricultural ETF that invests in vertical farming operations. Check out the VanEck chart before you invest. 
Examples of ETFs with vertical farming exposure include the VanEck Vectors Agribusiness ETF (NYSE: MOO) and the iShares MSCI Agriculture Producers ETF (NYSE: VEGI). 
Agricultural REITs
Real estate investment trusts (REITs) own or finance income-producing real estate properties and distribute at least 90% of their taxable income to shareholders as dividends. Agricultural REITs rent fertile land to farming and agribusiness companies and return a portion of this rent to shareholders. Examples of agricultural REITs include Farmland Partners, Inc. (NYSE: FPI) and the Gladstone Land Corporation (NASDAQ: LAND).
Investing in Vertical Farming for the Future
If you're an investor interested in exploring the realm of vertical farming, you can gain diversification within multiple agricultural sectors with the most recommended investments listed above. For example, in addition to its investments in sustainable vertical farming, Scotts Miracle-Gro is also a top name in pesticide creation and gardening supplies. Exploring what each company's full portfolio looks like before choosing which stocks to buy and sell can give you a complete understanding of your exposure as an investor. 
FAQs
Still, have a few questions about which vertical farming stocks to buy? The following are a few last-minute answers to investors' most common questions about vertical farm stocks.
Can you invest in vertical farming?
Yes, it is possible to invest in vertical farming, and there are several investment vehicle options. Some of the most common vertical farming investment options include individual shares of stock, agricultural mutual funds and ETFs and direct startup investments. Investors should consider the developing nature of the vertical farming industry before choosing where to invest and how much risk they're comfortable with.
What companies are working on vertical farming?
There are many startups and publicly traded companies working on vertical farming integrations. Some examples of vertical farming companies include AppHarvest (NASDAQ: APPH), BrightSphere Investment Group (NYSE: BSIG) and Scotts Miracle-Gro (NYSE: SMG). Additionally, there are hundreds of startups involved in vertical farming that are not yet publicly traded. 
Is vertical farming profitable?
Vertical farming can offer advantages over traditional farming methods, such as growing crops in a controlled environment, year-round production and potentially higher yields. These advantages can result in lower costs for inputs such as water, fertilizers and pesticides and potentially higher prices for premium produce. 
However, as vertical farming is still a developing industry, startup costs are higher than traditional farming operations. This directly impacts the overall rate of return vertical farming investors will see.