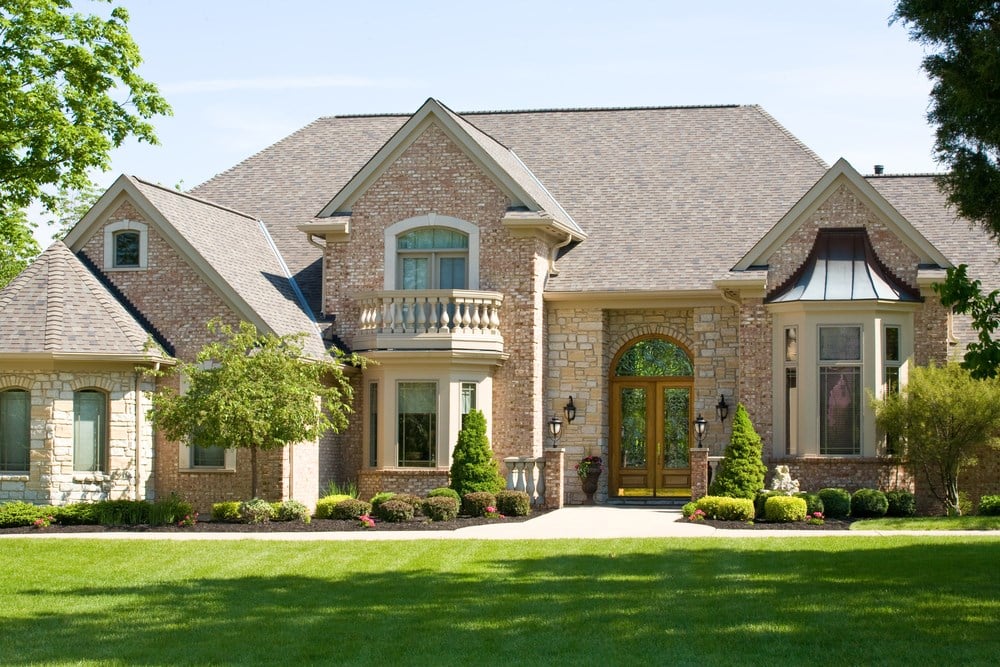 Despite rising mortgage rates and a slightly cooling housing market, homebuilding stocks like Lennar (NYSE: LEN) and KB Homes (NYSE: KBH) are ripping higher and outperforming the S&P 500.
The sector was buoyed by positive earnings results from the likes of Redfin (NASDAQ: RDFN), Toll Brothers (NYSE: TOL), and D.R. Horton (NYSE: DHI), as well as benefiting from modest improvements in housing market conditions in the spring.
Looking forward, industry stalwarts Lennar (NYSE: LEN) and KB Homes (NYSE: KBH) are reporting earnings on June 14 and June 21, respectively. The ebullient price action in both stocks shows investors expect home-run reports.
With that said, is there any upside left in homebuilding?
Homebuilders: Too Little, Too Late?
Buying homebuilders was a home run trade post-COVID until the slowdown in 2022. Stimulus left consumers flush with cash, and they used it to move out of cities and buy big houses in the suburbs.
Just look at the post-COVID run in the SPDR Homebuilders ETF (NYSE: XHB):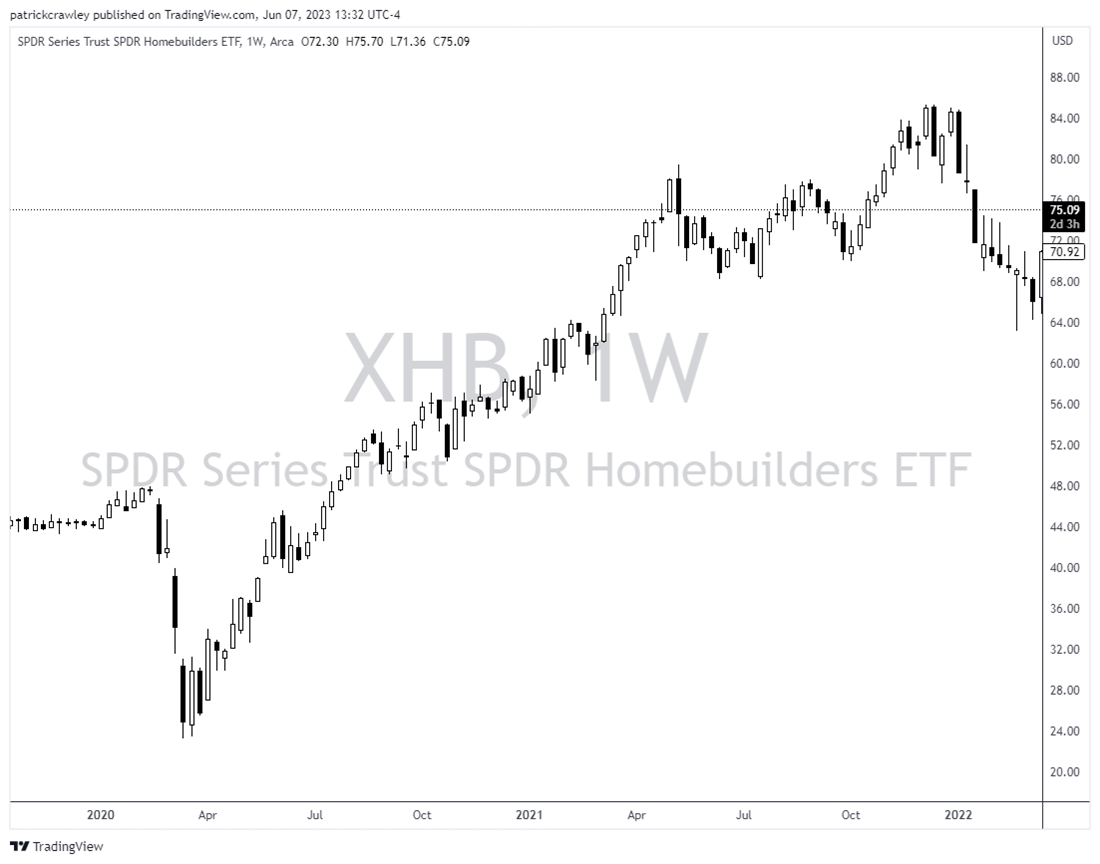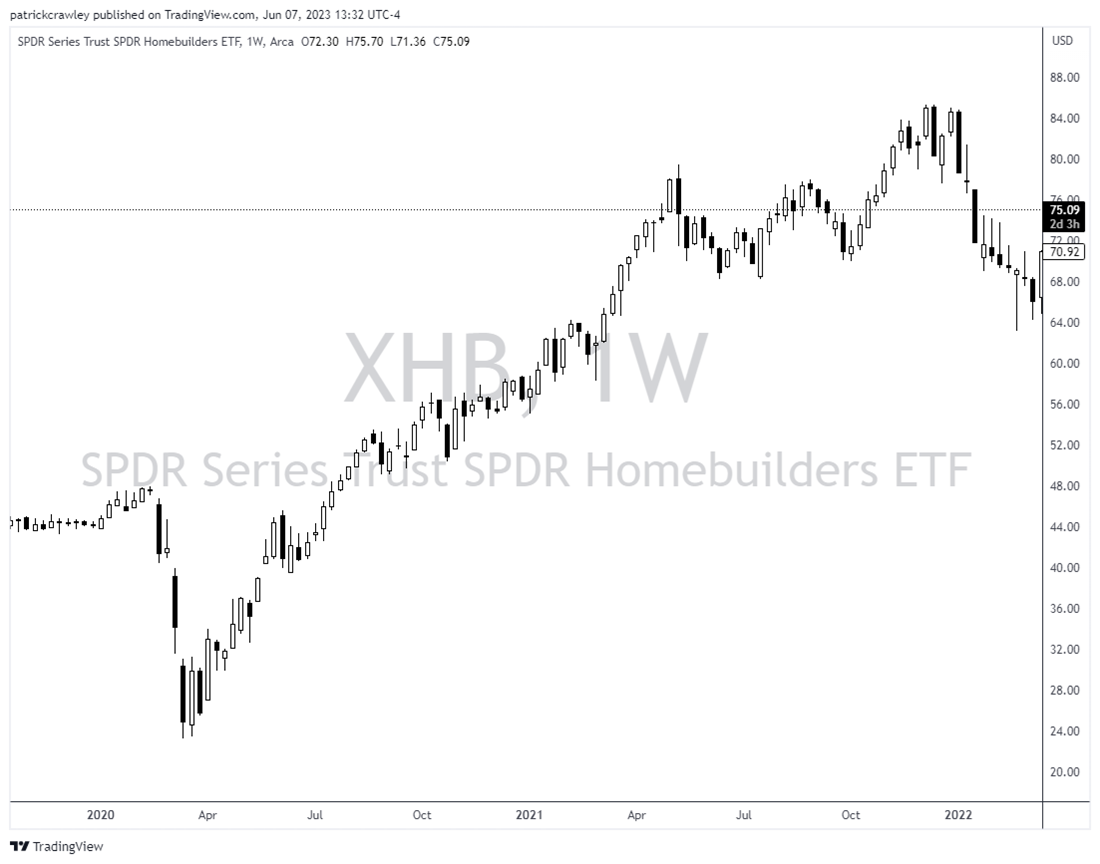 Several trends underpinned the housing market strength, too. Cities with strict lockdown policies saw massive migrations into states with looser guidelines. So you saw people from NYC moving to Florida and the southeast coast, folks from Portland moving to Boise, and so on.
But both the wholesale post-COVID stimulus and COVID lockdowns are over. Many eager to move out of major cities have already done so. The real estate market is still strong but not strong enough to support another substantial rally and outperformance in an economy teetering on recession.
Housing has weakened meaningfully since homebuilding stocks hit their peak in December 2021. Existing home sales for April were down 23% year-over-year, with home sales in a pretty strong downtrend. Meanwhile, the average home price declined 1.7%, making two consecutive months of price declines.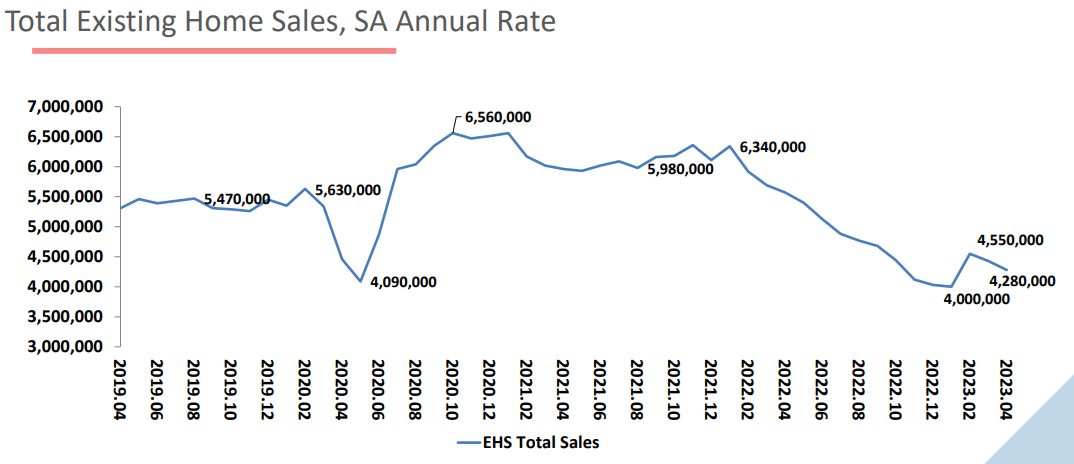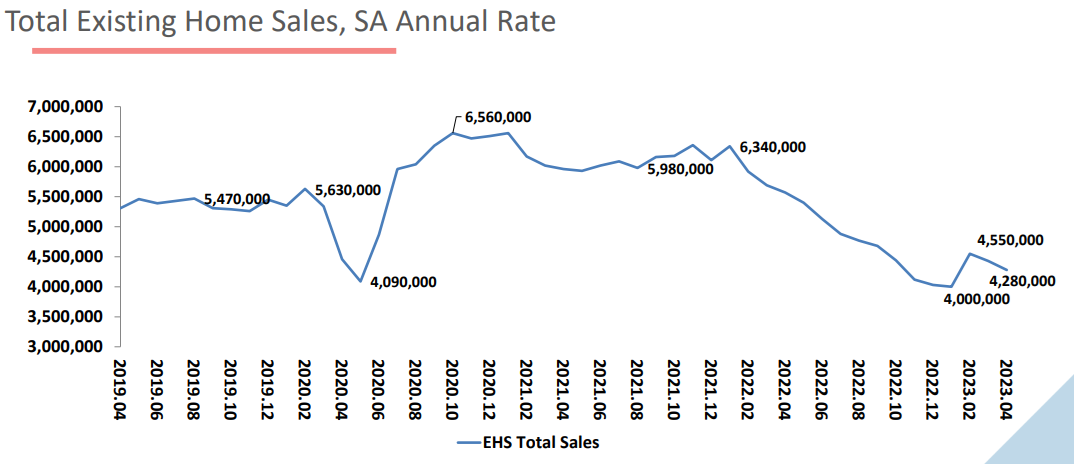 With mortgage rates at their highest levels since 2002 and the labor market showing signs of loosening, the backdrop is entirely dissimilar to the economic environment in 2020-2021.
When looking at valuation, homebuilders' multiples don't look like they offer substantial opportunity, trading at 1.2x NTM tangible book value versus the longer-term average of 1.4x. The market is pricing roughly average mid-cycle conditions for housing, and that might not even be the case.
Homebuilders: The Bull Case
Despite the real estate market retreating from its 2021 fervor, everyone knew it couldn't go on forever. But the post-COVID housing market left behind a difficult-to-solve housing shortage only exacerbated by a few years of supply shortages.
The US housing market only has 2.9 months of inventory as of April's existing home sales report. While that's an increase compared to the record-low of 1.6 months in January 2022, it's still significantly below ordinary conditions of roughly 5-6 months of inventory.
Because there are fewer and fewer existing homes for sale, new homes are accounting for a more significant portion of the housing inventory. This is excellent for homebuilders who build and sell new homes.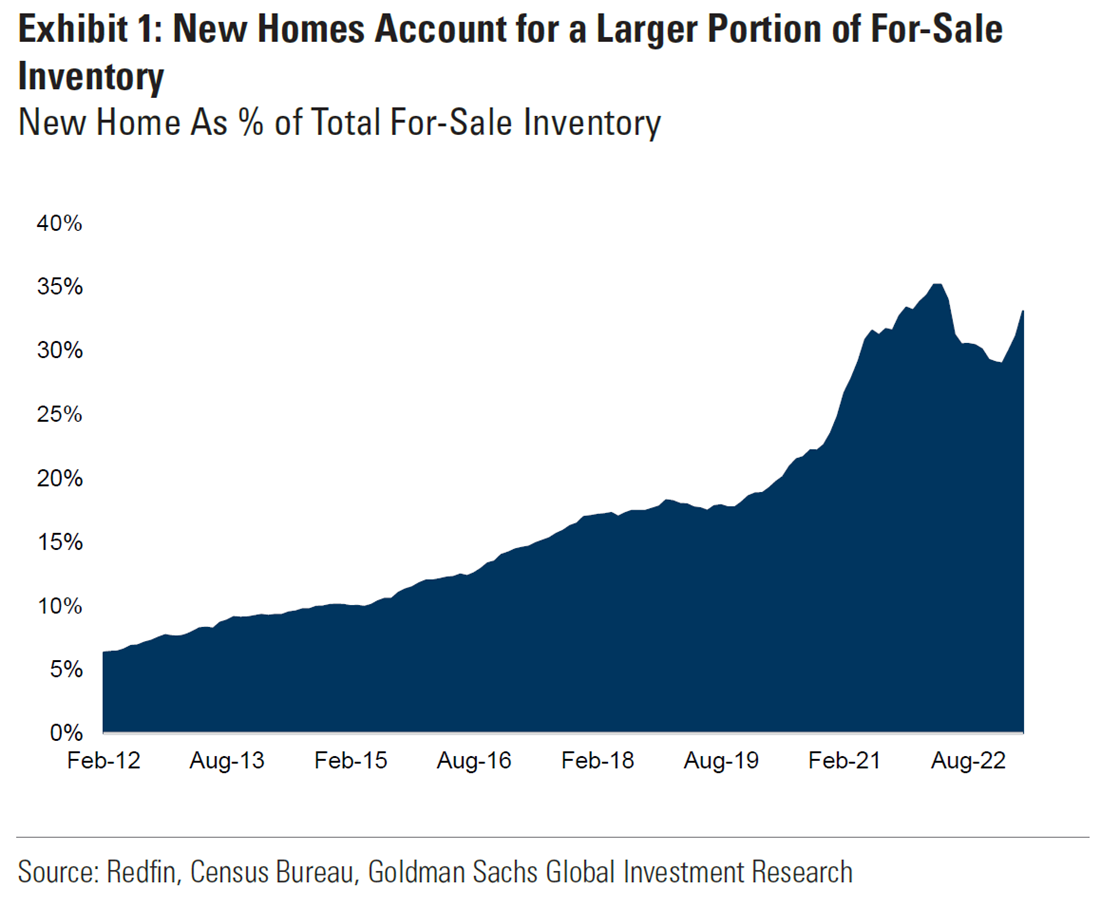 But for the pace of new home sales to continue, the consumer needs to remain strong. This means continued low unemployment, moderation in inflation and mortgage rates, and a soft landing for the US economy following the Federal Reserve's rate hike cycle.
Because otherwise, in a hard landing, home sales are likely to plummet, especially more expensive new construction, as unemployment would rise north of 5% or even 10%.
Lennar and KB Homes: Upcoming Earnings
Lennar (NYSE: LEN) and KB Homes (NYSE: KBH), two of the nation's largest homebuilders, will report earnings later this month. Lennar reports on June 14, and KB Homes on June 21.
Given the trend of solid reports from homebuilders, it wouldn't be surprising to see these two's continued strength. Goldman Sachs recently revised its earnings estimates for KB Homes and Lennar, modestly increasing EPS expectations for both companies and reiterating their "buy" ratings.
Check out MarketBeat's MarketRank Forecast for Lennar: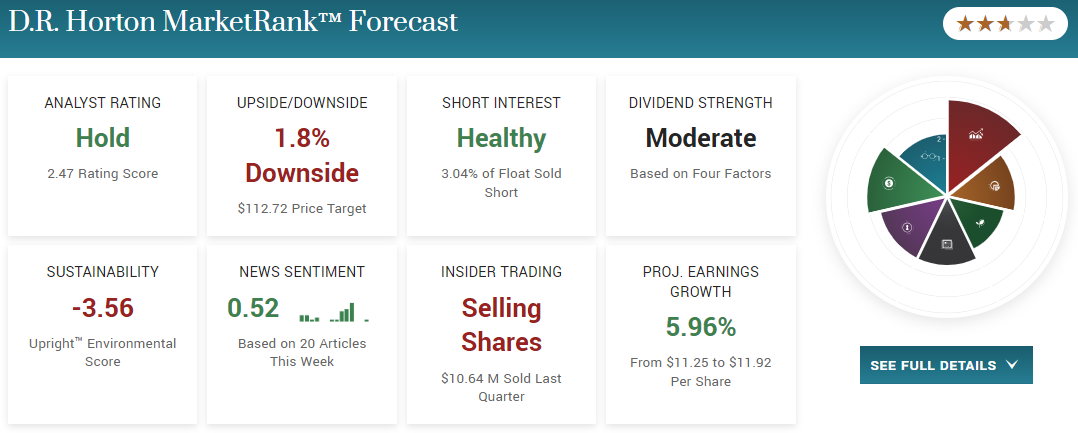 Check out MarketBeat's MarketRank Forecast for KB Home: