Dadvan Yousuf, otherwise known as the "Crypto King", is the youngest crypto millionaire in Switzerland. Dadvan has created The Dohrnii Foundation to ensure the future of cryptocurrencies is bright, educating new generations about the lucrative potential of the crypto economy.
Switzerland - March 24, 2023 —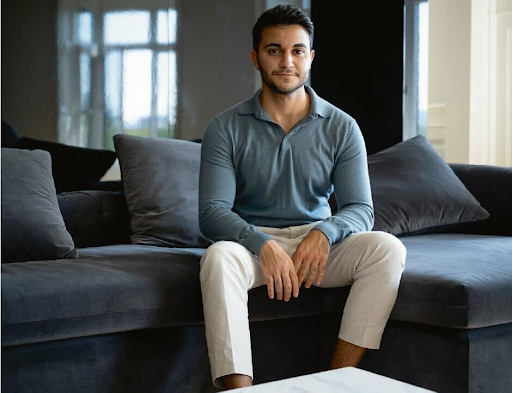 Dadvan Yousuf has been the main talking point in the crypto trading world. He rode the first wave of Bitcoin's rise in 2011, sold most of his possessions to purchase his first crypto assets when he was only 11 years old, saw an opportunity in Ethereum when it first appeared and is now considered one of the most successful self-made crypto millionaires in Europe and beyond. 
As an Iraqi refugee, Dadvan's upbringing is a tale of poverty and struggle. Even as a child, he was bent on living a successful, more fulfilling life and it wasn't long before his dreams would come to fruition. Bits of Bitcoin became heaps, and as his wealth soared, he felt a calling to give back to the crypto community that enabled him to escape a life of poverty. 
He founded the Dorhnii Foundation to promote digital literacy and enable all crypto-curious individuals, enthusiasts, and budding traders to approach crypto trading with the confidence and knowledge required to succeed. 
Dorhnii Foundation is built on the principles of financial freedom and independence. The foundation is a digital ecosystem on a mission to edify its students about all things crypto; from understanding what crypto assets are to investing and trading to creating diversified portfolios, the Dorhnii Foundation covers it all. 
One of the most groundbreaking crypto innovations is Dadvan's self-made automated crypto trading algorithm. The Dorhnii Foundation utilizes a sophisticated form of artificial intelligence to further Dadvan's creation. As imparted by the company's spokesperson, algorithmic trading is an integral component of smart crypto trading, pointing to the importance and advantages of this approach to crypto trading and investments:
"A natural development of online investing that has been rapidly gaining popularity over the last years is the algorithmic trading market. While the computerization of stock market trading began approximately half a century ago, major advancements in AI and machine learning over the last years have pushed this much further. In the U.S. stock market and many other developed financial markets, about 70-80 percent of overall trading volume today is generated through algorithmic trading," Dorhnii Foundation's spokesperson said. 
Dadvan Yousuf's Dorhnii Foundation is introducing a gamified approach to learning more about crypto. Through Learn-to-earn puzzles, quizzes, and challenges, the students are motivated to invest more time into learning. 
Another important element of the Dorhnii Foundation is Dadvan's proprietary crypto coin – the namesake of the foundation, "Dorhnii". This token was originally designed to be used within the Dorhnii Foundation but was eventually launched on major markets via blockchain technologies. The Dorhnii Foundation with Dadvan Yousuf at its helm is committed to promoting digital literacy and financial freedom. 
More information about Dadvan Yousuf is available on his official Wikipedia page.
Contact Info:
Name: Dadvan Yousuf
Email: Send Email
Organization: Dadvan Yousuf
Address: Switzerland
Website: https://en.wikipedia.org/wiki/Dadvan_Yousuf

Release ID: 89092574
If you detect any issues, problems, or errors in this press release content, kindly contact error@releasecontact.com to notify us. We will respond and rectify the situation in the next 8 hours.