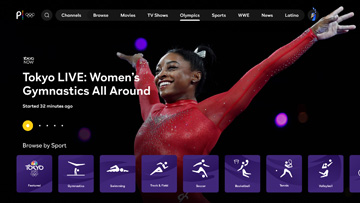 (NewsUSA)

- Peacock is the ultimate destination to stream the Tokyo Olympics with live coverage of some of the Games' biggest events, new daily live shows, original programming, and more. Almost all Tokyo Olympics is available to stream for free. New viewers can use an email address to sign up at peacocktv.com.
Fans can watch live coverage on Peacock every morning, including major events like?men's and women's gymnastics and?men's and women's?track and field. Matt Iseman and Akbar Gbajabiamila will host Peacock's morning show?"Tokyo LIVE." Two-time Olympic medalist Laurie Hernandez will serve as a studio analyst for gymnastics along with Olympic medalist Bridget Sloan and three-time Olympian John Roethlisberger, calling the action live across all men's and women's gymnastics events. Bill Spaulding will call track and field play-by-play alongside Olympian analysts Tim Hutchings and Alysia Montaño.
Peacock will also stream live coverage of men's basketball throughout the games, beginning with USA vs. France on July?25. Bob Fitzgerald will call basketball play-by-play alongside analysts Fran Fraschilla and Vince Carter, gold medalist and eight-time NBA All-Star. These games are available on Peacock Premium.
New hosts and contributors on Peacock will help fans catch up and keep up on the Tokyo Games. Amber?Ruffin will be on the ground providing her own unique, comedic analyses of the competition. The hilarious commentary series "Olympic Highlights with Kevin Hart and Snoop Dogg" will recap the Olympics' most impressive displays of athleticism as well as the moments that don't go as planned. Rich Eisen?will host "Tokyo Gold," a daily, comprehensive look at the most compelling performances of the day. Lindsay Czarniak, Lolo Jones, and MJ Acosta-Ruiz will host "On Her Turf" at the Olympics, the first NBC Olympics show dedicated to covering women's sports at the Games.
Every evening, Cari Champion and Kenny Mayne?will host?"Tokyo Tonight," which will bring fans into the Games with quick turnaround highlights as well as interviews and feature stories -- Jac Collinsworth will serve as on-location contributor.
Looking for more ways to enjoy the Olympics? Peacock is also rolling out new Original programming to coincide with the Tokyo Olympics, including "For Ball and Country," which follows some of the greatest men's basketball players in America as they set aside their on-court rivalries and form a star-studded team to represent their country, as well as "Golden: The Journey of USA's Elite Gymnasts," which takes fans behind the scenes as Olympic gold medalist Laurie Hernandez, Morgan Hurd, Sunisa Lee, Konnor McClain, and MyKayla Skinner compete for the four coveted Team USA roster spots. Additional Originals available to screen include "The '96 Effect," "The Sisters of '96: The 1996 USA Women's Olympic Soccer Team," "Michael Phelps: Medals, Memories & More," "The Greatest Race," and "My Pursuit: Life, Legacy & Jordan Burroughs."
Following the Tokyo Olympics this summer, fans can look forward to streaming additional sports events on Peacock, including upcoming Sunday Night Football games, Premier League soccer matches, NTT IndyCar Series, and much more.
Sign up for free at https://www.peacocktv.com to watch Peacock's Tokyo Olympics programming -- including curated highlights and playlists, full event replays, and six Olympics channels -- to never miss a moment.