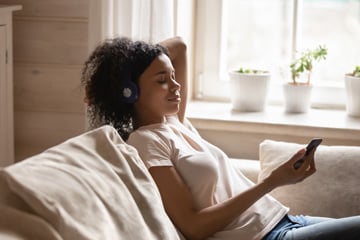 (NewsUSA)

- The past year-and-a-half has brought unprecedented levels of stress to everyone, but parents in particular shouldered an extra load, as children's schedules (and emotions) were turned upside down. In fact, Gallup's 2021 Emotions Report shows that women with young children at home were hit the hardest in terms of pandemic stress and worry.
As the pace of daily life begins to pick up with the back-to-school season, it's more important than ever for busy parents to find a few minutes of 'me' time to decompress every day. Yet, finding the time can be a struggle.
That's exactly why the mental wellness app, Breethe, meets parents (and anyone needing stress relief) where they're at, ensuring that self-care becomes a reality and not just a hopeful wish. Breethe's personalized approach -- which easily integrates self-care into your day instead of just adding another item to the to-do list -- delivers customized, relatable stress relief right to your phone.
"Breethe is personalized for you and your needs. When it comes to wellness and self-care, there is no one-size-fits-all approach," says Breethe co-founder Lynne Goldberg. "The more we can meet someone where they're at in their day and life, the more lives we can change for the better."
Can't sleep? Feeling anxious? The app is designed to figure out why and gets to know its users through a series of quick and easy questions rooted in behavioral science. Then, based on this interaction, it provides personalized recommendations -- including meditation, hypnotherapy sessions, and helpful talks.
Additionally, with the "Customize My Day" tab, Breethe helps users sneak in a few minutes of self-care as they go about their day. Choose from a selection of activities, such as starting the day, doing chores, working out, or falling asleep. By setting the times when you typically do the activities, the app recommends what support would serve you best at that specific time.
Finally, Breethe is all about real help for your life -- it offers relatable tools for (very!) specific everyday situations, such as "Tax Season -- Adulting Is Hard," "My Boss is a Jerk," "My Family Drives Me Nuts," making the app even more accessible, timely and friendly.
This approach differentiates Breethe from other wellness apps because users need not sift through content libraries in search of the right tools. Instead, Breethe provides a personalized experience that delivers the most appropriate content to users on demand, making it the perfect choice for parents (and anyone else) at home and on the go. As the Breethe team explains, "it's like having a best friend and life coach in your pocket."
Visit breethe.com for more information, or follow along at: Instagram: https://www.instagram.com/breetheapp (handle: @breetheapp) and Facebook: https://www.facebook.com/breetheapp (handle: @breetheapp).