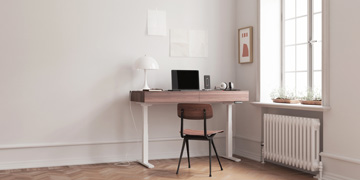 (NewsUSA)
- Home offices are personal spaces that reflect the user's personality. Whether you work in a room with a closed door, a nook in the kitchen, or a corner of the family room, home offices are becoming a part of life.
Furniture that fits, figuratively and literally, into our homes and lives can make working from home a more pleasant, productive, and comfortable experience.
In addition, consumers are more conscious of the environmental and economic impact of large purchases such as furniture.
Custom furniture company Baru not only creates pieces that fit your needs and your space exactly, they work with trusted furniture makers in your community. Once you experience customized furniture for your home office, your relationship with your work space will change.
Not only will you have a unique furniture from top-quality materials, you will have supported the local economy and helped cut down on the waste associated with overseas manufacturing supply chains. Baru's network of skilled woodworkers can turn your order around quickly, and for a fraction of the cost of typical "custom-made" items.
Several more reasons to choose custom furniture for your home office include:
- Investing in quality. Custom furniture from Baru is designed and built to last so you can maximize your investment. Local manufacturing avoids long-distance shipping, so the money can be put towards higher-quality materials and components to make your investment worthwhile.
- Showing your style. Even if you are the only one who sees your home office, you have the ability to customize a desk with drawers just where you need them, and choose custom finishes and colors that bring pleasure as well as function to your workspace.
- Saving you time. Baru's sustainable manufacturing practices allow the company to know the sources of all materials and where the pieces are made (in the U.S.A.). Local production means a shorter wait time for your furniture to reach your door, and reduced carbon emissions associated with long-distance shipping.
Baru's top design and manufacturing engineer, Leland Thomasset, is an artist in his own right, with an extensive career in woodworking.
One of his designs was a walnut sideboard with a wireless charger and built-in mini speakers. But wait, there's more -- the sideboard had no bottom, so those seeking unobtrusive "instant office space" can pull up a chair, open the doors, and get to work, then close it all up for an "out of sight, out of mind," aesthetic.
Visit hellobaru.com for more information about how you can change your relationship with your furniture, and feel good about it.