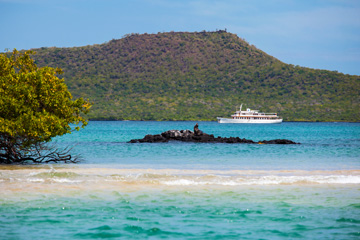 (NewsUSA)

- Despite the reinstatement of precautions related to the ongoing coronavirus pandemic, travel remains possible in most areas, especially for individuals who are vaccinated. The urge for escape has prompted a surge in interest in adventure travel to experience other places, cultures, and wildlife. A Galapagos Cruise with Quasar Expeditions offers an unparalleled experience in the legendary Galapagos Islands for families, photography/wildlife enthusiasts, honeymooners, and adventurers of all ages.
Travel to the Galapagos on a luxury yacht offers visitors a unique opportunity to avoid cruise ship crowds and experience a safari-style adventure in deluxe accommodations. Other benefits of small ship cruising include more attention from expert guides, and more opportunities to take advantage of life-changing close-up encounters with the Islands' unique wildlife. Watch a video of these amazing encounters here.
Quasar Expeditions, a leader in the small cruise ship industry for more than three decades, offers 8-day and 15-day Galapagos luxury cruises on one of two yachts. Their vintage Grace Yacht was once owned by Princess Grace Kelly in the 1950's and it served as the honeymoon yacht for the royal couple soon after they wed. It carries a maximum of 16 guests and is maintained to a modern and elegant standard. The Evolution Yacht, a larger but no less luxurious ship in Roaring 20s style, takes a maximum of 32 guests along the footsteps of the famous naturalist, Charles Darwin who explored and studied the Galapagos Islands.
"We do not sell to the tourist. We cater to the traveler," according to the company's website.
"We strive to make sure our guests connect on an emotional level with the destination and all it encompasses; it is a journey for transformation."
Although the Galapagos boasts moderate temperatures year-round, fall in particular offers several unique opportunities, including snorkeling encounters with sea lions and pups, exceptional lighting conditions for photography enthusiasts, glimpses of giant tortoises laying eggs, and a good chance of whale and dolphin sightings.
All Quasar cruises on both yachts offer additional features that appeal to today's travelers:
Sustainability: Quasar Expeditions' unique commitment to sustainability extends from a zero single-use plastic policy and carbon-neutral emissions to partnerships with organizations that combat over-tourism and the commercialization of indigenous cultures.
Flexibility: Quasar offers a risk-free booking and cancellation policy, and cruises also allow for flexibility to capitalize on unexpected peak wildlife encounters.
For more details, visit www.quasarex.com/galapagos.