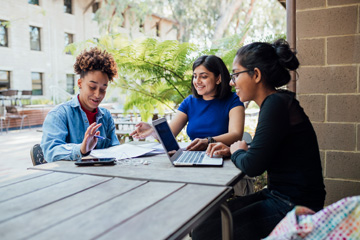 (NewsUSA)

- With school back in session, now is a good time for college students to consider their potential career options.
Unfortunately, many students know little about the financial planning profession. This includes being unfamiliar with what financial planners do, the variety of career opportunities available, the skillsets that are helpful in the profession and how the career can be personally rewarding.
What Financial Planners Do
Financial planning is much more than working with spreadsheets, budgets, sales and stock tickers.
Financial planners help individuals and families make sound financial and investment decisions to achieve life goals based on their priorities and fundamental values. They can help their clients save for college, pay off debt, purchase a home, start a business, preserve family wealth and plan for retirement. Financial planners can also help businesses design and manage retirement plans and other financial welfare programs for their employees.
Most people think all financial planners are "certified," but this isn't true. Just about anyone can use the title "financial planner," but a CERTIFIED FINANCIAL PLANNER™ professional is a financial planner that has met rigorous qualifications. Most important, a CFP® professional made a commitment to CFP Board to act in the best interests of their client.
A CFP® professional establishes a one-on-one relationship with each of their clients. They also provide holistic advice to guide clients through all aspects of their finances and help them maximize their potential for meeting their financial goals.
Career Opportunity
The financial planning profession is in a period of significant growth.
For example, according to the U.S. Bureau of Labor Statistics, about 19,200 openings for personal financial advisors are projected each year throughout the next decade. Many of these openings are expected to result from the need to replace advisors who transfer to different occupations. What's more, part of this aging wave includes advisors themselves, many of whom -- about 37% -- are expected to retire over the next decade.
As for opportunity, financial advisor-related jobs are ranked fourth in "Best Business Jobs" by U.S. News and World Report. Additionally, those who obtain credentials, such as CFP® certification, will likely have the best job prospects.
Helpful Skills
To help clients reach their financial goals, financial planners need knowledge of budgeting, taxes, financial products, investments and investment markets.
They also need to possess analytical skills, as it is common for entry-level professionals to start their career supporting a financial planner. In this role they would gather and maintain client data, enter it into financial planning software, and then analyze and examine financial plans with the financial planner or the financial planning team.
As for interpersonal skills, students considering a career in financial planning should enjoy working on teams, helping and responding to people, and communicating with others. They should also enjoy listening to people's needs, asking questions and developing financial plans -- while possessing high integrity and a "coaching" mindset.
A Rewarding Career
A financial planner also enjoys the rewards that come with helping their clients bring all of the pieces of their financial lives together. For example, a career in financial planning can provide:
Personal fulfillment of helping others. Financial planners help others enjoy secure and productive lives by guiding them through key financial decisions.
Mental stimulation. A good financial planner knows more than just money, they understand the psychology of their clients and enjoy helping people achieve sound financial goals.
Work-life balance. Financial planners have the freedom and flexibility to balance their personal and professional lives. The variety of career options enables them to build the work-life balance they want.
Flexibility. Financial planning careers take many paths, from working at firms of all sizes to striking out on your own.
Students considering a career in financial planning should check to see if their college or university has a CFP Board Registered Program and read stories from CFP® professionals about their careers in financial planning and why they love what they do.