ETF Prime: What's Next for ETFs & the Markets?
December 15, 2021 at 07:00 AM EST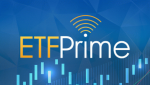 On this week's episode of ETF Prime, host Nate Geraci is joined by ETF Trends' CIO and director of research, Dave Nadig, to discuss the state of financial markets and ETFs. Geraci also speaks with Shana Sissel, Strategic Wealth Partners' chief market strategist, regarding her perspective on the...